Welcome
Welcome to Jazz On The Go, a website that explores the musical artistry of Central Coast Drummer and Percussionist Rick Ciardella.  Rick moved to the Carmel area in 2020 and is getting to know and performing with the Jazz Community on the Central Coast. He also continues to perform in the San Francisco Bay Area with In The Mix and Enoteca Jazz monthly and special private engagements.  Rick also performs with Maple Street Movers providing entertainment for the residence in transitional housing in Redwood City.  He also occasionally performs with Moonglow, a dance band in the Monterey area.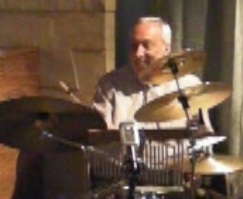 Discover a bit about the Musical Ensembles.  Listen to In The Mix recordings.  Find out more about the places where you can hear live music. 
In The Monterey Mix
Rick is excited to announce that in 2022 we established In The Monterey Mix to accommodate our clients on the Monterey Peninsula.  It includes a core of "In The Mix" musicians and where needed Rick rounds out the group with fantastic local Monterey Bay talent providing the same high quality experience.